Berry Energising Smoothie Bowl
Boost Your Energy and Get In Shape with this delicious smoothie bowl. For Breastfeeding Mums it will Support Your Milk Suppl.y
Ingredients
1 cup frozen mixed berries
1 banana (sliced and frozen)
2-3 tbsp coconut water or milk
2 tbsp In Shape Mummy Health Shake mix
1/2 cup of your favourite fresh fruit for the topping
Directions:
Place the frozen berries, banana, liquid and In Shape Mummy Health Shake mix in a blender. Blend and voila!
Add the fruit as a topping.
Fast Track Weight Loss & Boost

Your Energy
If you're like most Busy Mums you want to eat a Healthier Diet and Exercise, but it's easier said that done when you're trying to cope with the constant demands of motherhood.

That's why our team of leading dietitians and nutritionists developed the Ultimate Weight Loss Shake, the In Shape Mummy Health Shake.
Enjoy as the Quickest and Easiest Slimming Breaky, Lunch or Snack.
Boost your energy and health while you shed body fat with a delicious blend of Organic Pea Protein, 25 Vitamins and Minerals plus Superfoods.
Look and Feel Your Best with NO Artificial Nasties, NO Caffeine, NO Wheat, NO Soy & NO Lactose. 100% Breastfeeding & Vegan Friendly.  Made in Australia.
Buy Now Pay Later with Afterpay.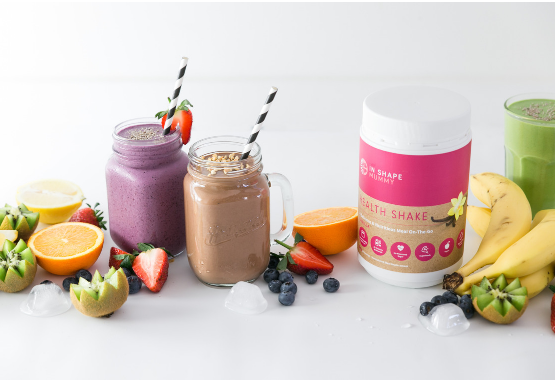 "The In Shape Mummy Health Shake is scientifically formulated to help Busy Mums get the vitamins, minerals, dietary fibre and easy to digest protein they need to Lose Weight and Sustain Energy. And for Breastfeeding Mums, Support their Milk Supply.
One of the best parts about these shakes is that they contain premium Organic Pea & Brown Rice Protein, unlike many popular shakes that contain whey or soy protein. This high quality vegan protein can avoid digestive issues such as bloating and gas."
Julie Masci, Dietitian HBlthSc, APD, AN
-In Shape Mummy Scientific Advisory Panel
Did you know there are 2 types of In Shape Mummy Health Shakes?
We want to help mums of all stages of life look and feel their best. 

That's why we have two options to help you get the best  results. One to support breastfeeding mums and the other to support mums who are not breastfeeding.