Congratulations Carly on losing 35kgs!
Watch this video to find out how she did it...
"I lost 35 kgs. 110 kgs to 75 kgs!
Juggling two little boys under 2 years old doesn't leave much time for healthy choices for Mummy and the In Shape Mummy Health Shake is such an easy solution to get all the goodness I need to keep going! It is delicious, gives me energy and has helped shift the weight after my babies.
My older son is 20 months and I didn't get the chance to lose the weight gained whilst carrying him before I was pregnant again with baby #2.
I easily gained 40kgs across the two pregnancies and no thanks to terrible pelvic pain in pregnancy #2 wasn't able to keep active.
Now that my second son is here and the pelvic pain has gone I have stuck to replacing breakfast with my shake and walking every morning for the duration of the morning sleep.
Some days I will do a second shorter walk during his nap.
I'm still able to enjoy yummy healthy foods and definitely do not feel like I'm going without. I no longer crave sugary foods as the shake sets me up for the day with its magical satisfying ingredients!
The shake has become even more of a must since returning to work! If I thought I was busy before, life just got a whole lot busier!
I tell all my friends about In Shape Mummy because easy weight loss doesn't need to be a secret!"
Carly
Breakfast
I start my day with an In Shape Mummy Health Shake. I've been doing this every day for over 18 months.  
I have the chocolate brownie and caramel fudge flavours which I absolutely love.
I mix it with frozen fruit. My freezer is stocked full of frozen fruit. You can buy lots of different easily prepared frozen fruits from the freezer section in the supermarket.
I also have oats, chia and flaxseeds all really easily available in my cupboard, always stocked so I have lots of different flavours. And then I've always got lots of almond milk to make my smoothies with.
Food for the rest of the day
The food for the rest of the day is also really important.
Luckily the shake stops me from craving sugary foods like I used to crave. 
I wouldn't call myself a sweet tooth anymore which is amazing.
I think there must be something in the shake which stops sugary cravings.
I try to have a lot of protein. And green leafy veggies.
And I watch my portion sizes.
I make sure I'm reaching for foods that are going to give me energy for longer rather than quick boosts of energy that don't last me throughout the day.
I've got 2 little boys under 2 and I really need to have as much energy as I can.
Dinner
Dinners are always a huge amount of salad or cooked greens with about a fist size of meat. 
Lunch

Tuna salad.
Sandwiches (curried egg or ham and salad are my go-to's).
Salad wraps.
In Shape Mummy Health Shake (If I am going out for dinner or a celebration I have 2 shakes a day to reduce my overall calorie intake for the day).
Snacks
Boiled eggs (I always have a basket in the fridge ready to go)

Apples
Pears
Dried fruit
Corn thins & peanut butter
Carrot, cucumber & hummus
Greek yoghurt & oats with honey
Popcorn and kiwi fruit
Peanut butter on apple with a sprinkle of cinnamon
Cucumber and ricotta
Vita weat and hummus
High protein yogurt and flaxseed meal
Vita weat and tuna in spring water 
Drinks
I don't drink milky drinks like coffee or hot chocolate either which I think makes a huge difference in having more space for better snacks!
Exercise
I always make sure I fit in some exercise each day. Even if it's just a 30 minute round trip to the supermarket to grab some milk for my toddler. Or a walk to day care or to the doctor. Wherever we need to go I try and make it a walk rather than a drive.
The only exercise I did while losing the first 20 kgs was walking.
I wasn't doing anything else other than walking. I wasn't feeling ready to do anything else.

After I lost the first 20 kgs, I felt stronger and my body was feeling better and I was able to fit in other types of exercise



Later on 10 kgs I jumped on a spin bike (I bought one for home) as well as some body weight workouts I found online.  This was all easy to do in front of my TV. Then was I was feeling stronger I started going to the gym.
Mindset
My biggest piece of advice is wait for no one.
Don't wait for your partner to be on the journey with you or to have a friend to exercise with.
It's your individual focus and purpose that will get you there.
You really can't rely on anyone else to make it happen.
It's a non negotiable for me to stay active and be a healthy weight.
I have to consider my own health to be able to provide my kids the best future with me in it, free of aches and ailments!
Need some help with your own transformation?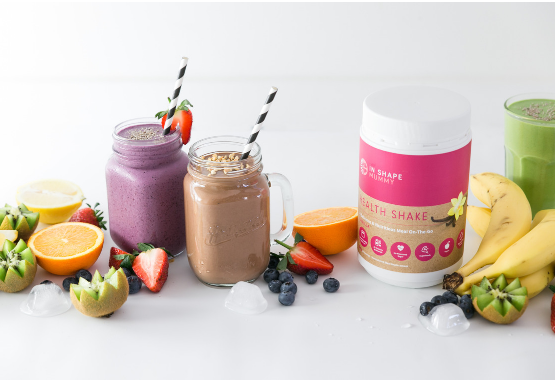 Fast Track Weight loss with our Quick, Easy and Delicious Superfood Meal Replacement, the In Shape Mummy Health Shake.

Boost Your Energy while you Shed Body Fat with our Premium blend of Organic Pea & Brown Rice Protein, 25 Vitamins & Minerals, Probiotics plus Organic Superfoods.
Our Breastfeeding Shake is enhanced with Natural Lactation Aids; Milk Thistle and Fenugreek to Support Milk Supply.
Look and Feel Your Best with NO Artificial Nasties, NO Caffeine, NO Wheat, NO Soy & NO Lactose. 100% Breastfeeding & Vegan Friendly.  Made in Australia.

Enjoy as the Quickest and Easiest Slimming Breaky, Lunch or Snack.
FREE 12-Week Health & Weight Loss Support Program worth $168 with any shake purchase.
Did you know there are 2 types of In Shape Mummy Health Shakes?
We want to help mums of all stages of life look and feel their best. 

That's why we have two options to help you get the best  results. One to support breastfeeding mums and the other to support mums who are not breastfeeding.