How to Avoid Putting on Weight at Christmas (& still enjoy yourself!) 
We all want to have fun at Christmas but no-one wants to put on excess weight. Follow the tips below if you want to know how to avoid putting on extra weight, and still enjoy yourself. 
Start your day on the right foot
Practise Gratitude. Spend 5 minutes thinking about all the things you are grateful for in your life. This will put you in a positive frame of mind and colour your whole day in a happy way. When you're in a good state of mind you're more likely to make healthy choices to nourish your body. Being a mother and having our little ones is such a precious gift which we can all appreciate.
Eat breakfast
People who eat breakfast tend to eat less over the whole day than people who don't eat breakfast. This is because people who don't eat breakfast are generally hungrier later in the day which can cause overeating. An In Shape Mummy Health Shake is a quick, easy and healthy breakfast.
Eat Mindfully
Chew slowly and savour every bite. When you chew slowly you give your brain a chance to let your body know when you're full.
What to do if you get chocolates as a gift?
If you get chocolates as a gift, re-gift them to someone else! If there are more chocolates already open make a plan to enjoy a couple - and give the rest to guests to take home to avoid temptation!
Eat before you go out
If you're going out to a celebration have a healthy snack like a banana before you go so you don't arrive too hungry and want to eat everything in sight.
Watch your drinks
The calories and sugar in drinks can add up quickly. Get some sparkling water with a squeeze of fresh lemon instead of soft drinks, cordial, fruit juice and alcohol. If you're going to have alcohol go for gin or vodka with sparkling water and a squeeze of lemon, orange or lime. 
Skip the sauces
Creamy or buttery sauces are not a good idea if you want to manage your weight. If you really enjoy them, just add a tiny bit rather than a lot so you don't feel like you are missing out.
Fill up on healthiest options first
Fill up on the healthiest options at the table first like vegetables and fruit before you indulge on the rest. It's a bad idea to be hungry at dessert time if you want to manage your weight!
Seconds anyone?
Try to avoid having seconds if you can. Eating too much food lead to weight gain. But if you like the act of having seconds, make each plate half the size. That way you can still feel like your having seconds and won't feel like your missing out. If you're having seconds go fill your plate primarily with the healthy stuff.  
How about treats?
If you really want that a treat, have it! But just have a smaller portion. Cut yourself a thin slice to minimise the calories. Or share a plate with your partner or kids. 
Drink enough water
Did you know our brains can mistake thirst for hunger? Aim to drink 2 litres of water a day to help you avoid overeating. Overeating leads to weight gain. Fill up a 1 litre water bottle or sports bottle and carry it around with you all day. Flavour it by adding in fresh cut up fruit to make it more exciting. If you're feeling hungry have a glass of water first to make sure it is not thirst. This will help you not to overeat.
Keep moving
Try to get more steps into your day. A 30 minute walk is ideal. You can split it into 2 lots of 15 minutes if need be. If you don't have time even a 10 minute walk will help. Walking not only burns calories, but it releases endorphins ("feel good" chemicals) in your brain. And it helps you make healthy choices - when you  feel healthy it makes you want to eat healthy. Each morning when you wake up put your work out clothes on first. This will make you feel more like exercising. Get them ready the night before.
Have 2 Shakes to reduce calories
If you're planning on a big celebration lunch or dinner, have In Shape Mummy Health Shakes for 2 of your other meals in the day to help you reduce your overall calories in the day. This will help you manage your weight.
Enjoy the day
Christmas is a time to enjoy! Above all else we hope you have a special day with your little ones!
If you do overindulge it is not the end of the world. You can always get back on track afterwards. If you know you're going to overindulge, make a commitment to yourself beforehand that you're going to manage your week afterwards. Why not invest in one of our In Shape Mummy Health Shakes before hand? Having that commitment will mean you can indulge yourself without feeling guilty!
From the team at In Shape Mummy, Merry Christmas to you and your precious family! xx
Fast Track Weight Loss with the
In Shape Mummy Health Shake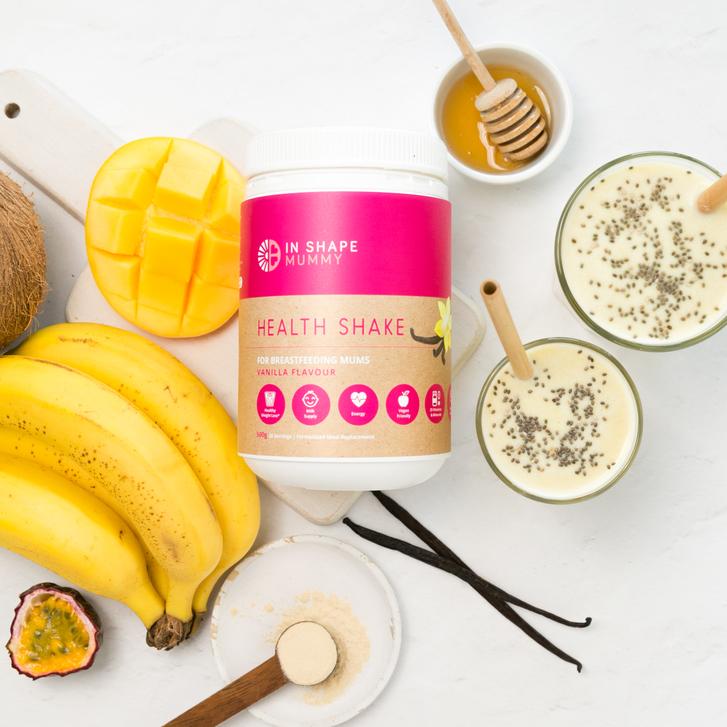 Many Busy Mums don't have time to cook health food and exercise ALL the time.
Great news! Now you can Fast Track Getting In Shape with our Quick, Easy and Delicious Superfood Meal Replacement, the In Shape Mummy Health Shake for Breastfeeding Mums.
Support your Milk Supply and Boost Your Energy while you Lose Weight with our Premium blend of Organic Pea & Brown Rice Protein, 25 Vitamins & Minerals, Probiotics plus Organic Superfoods.
Enhanced with Milk Thistle and Fenugreek which are herbs that have been used for centuries to Support Breastfeeding. Plus, Probiotics to help strengthen your babies immune system.
100% Breastfeeding & Vegan Friendly. Contains NO Artificial Nasties, NO Soy, NO Dairy, NO Gluten & NO Caffeine. Made in Australia.
Enjoy as the Quickest and Easiest Healthy Meal!
FREE 12-Week Healthy Weight Loss Support Program worth $168 with any shake purchase.
Mums are RAVING about the In Shape Mummy Health Shake...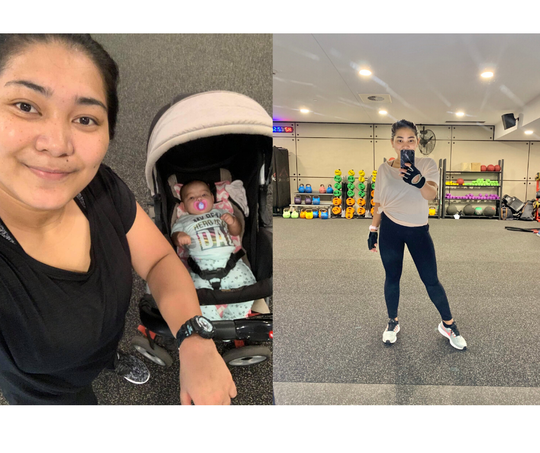 ★ ★ ★ ★ ★ 

"I am so grateful for all the people behind the In Shape Mummy Health Shake. It has helped me lose my post-pregnancy weight in a healthy way and very helpful during days where I had to wake up early for school drop offs and going to work. I've lost 15 kgs and I couldn't be any happier. I've regained my energy and have lots of time to play with my 2 kids. It's breastfeeding-friendly which is even better for me because the nutrients this Healthy Shake has is good for my little one. I feel great and motivated to work out even more when I saw my results. I'm so in love with this Healthy Shake!!! Thanks to Lisa and the rest of their team. ♥️"
- Maureen, WA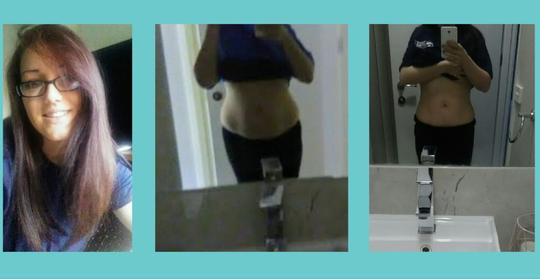 ★ ★ ★ ★ ★ 

"I'm loving it so far.. I'm already down from in weight and I feel great :)  Not exaggerating when I say this is the best purchase I ever made .. can't wait to get to my first mini goal of 65kgs then set my new goal of 60kgs :) .. so far it's been life changing, thank you so much!! It has literally boosted my milk supply. I used to pump 160mls and now I average 240mls .. I've never been able to get that."
- Tania, Vic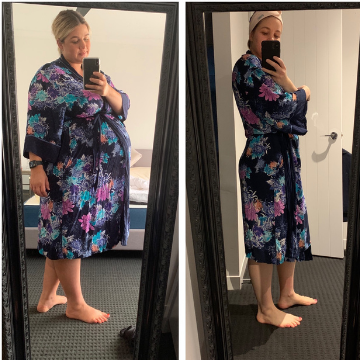 ★ ★ ★ ★ ★ 

"I've lost 35 kgs thanks to the In Shape Mummy Health Shakes. 110 kgs to 75 kgs! Juggling two little boys under 2 years old doesn't leave much time for healthy choices for Mummy and the In Shape Mummy Health Shake is such an easy solution to get all the goodness I need to keep going! My older son is 20 months and I didn't get the chance to lose the weight gained whilst carrying him before I was pregnant again with baby #2. I easily gained 40kgs across the two pregnancies and no thanks to terrible pelvic pain in pregnancy #2 wasn't able to keep active. Now that my second son is here and the pelvic pain has gone I have stuck to replacing breakfast with my shake and walking every morning for the duration of the morning sleep. Some days I will do a second shorter walk during his nap. I'm still able to enjoy yummy healthy foods and definitely do not feel like I'm going without. I no longer crave sugary foods as the shake sets me up for the day with its magical satisfying ingredients! The shake has become even more of a must since returning to work! If I thought I was busy before, life just got a whole lot busier! Now that I've lost the weight, I have more energy, zero aches and pains and have a better mood. I tell all my friends about In Shape Mummy because easy weight loss doesn't need to be a secret! Xx"
- Carly, Vic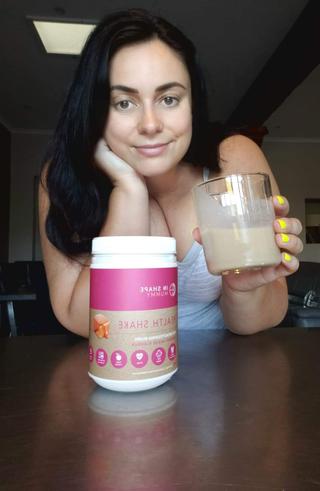 ★ ★ ★ ★ ★ 

"I have a very active little one and I have been anxiously awaiting the release of the new In Caramel Fudge In Shape Mummy Health Shake! ⁠I am already the biggest fan of the Vanilla and the Chocolate Brownie flavors so trying this new flavour was really exciting for me! ⁠So here is my review: ⁠ I'm going to be blunt.. this shake is so good that now I can't decide whether the chocolate brownie or the caramel fudge is my favorite. ⁠The caramel fudge flavor is the perfect combination of sweet and salty and the texture is velvety. It tastes clean, cold and delicious; all my morning cravings are met with one healthy product. On top of that, knowing how good this organic and vegan shake is for my overall health and breast milk supply literally sets this shake apart from the rest. ⁠I just wanted to thank you for coming out with such an amazing product line, there is nothing like it on the market. I feel so good about putting this into my body which also makes breastfeeding will be a breeze."