How to Reduce Bloating to Get a Flatter Tummy by Restoring Gut Health
In recent years, gut health has been at the forefront of research in the medical world. In particular, researchers have been studying the link between the gut and emotional and physical wellbeing. Problems in the gut can lead to an impaired immune system, emotional problems and a bloated tummy.
What Is The Gut?
The gut is an incredibly complex group of organs that begins at the mouth and ends at the bum. The gut contains 'gut microbiota', a collection of around 100 trillion bacteria, both good and bad. The good ones are essential to our metabolism, immune function and emotional wellbeing. In addition, the gut is responsible for digesting and extracting the energy from our food and producing waste.
How Is The Gut Affected During Pregnancy?
During pregnancy, the gut goes through unique inflammatory and immune changes. As the pregnancy progresses, the maternal gut function and the composition of those 100 trillion bacteria changes significantly. During this time, your body (especially your gut) go into overdrive. And that's why it's crucial to provide your gut with a little extra TLC, postnatally. We need to give our guts some extra TLC to regain balance in order to return to a normal metabolism, boost our immune system, regain emotional stability and prevent bloating.
How Can I Nourish My Gut Postnatally?
Eating healthily and incorporating a probiotic into your diet is the number one way to protect and improve your gut health.
Probiotics are living bacteria that are found naturally in our gut. Their job is to protect our immune systems, support digestion and improve our overall health. However, as mentioned above, we can also get our probiotics from our food or in the form of a supplement.
At times when our gut health may be a little run down, these additional probiotics are essential.
Probiotic Food Sources:
• Yoghurt
• Bone broth
• Sauerkraut
• Kimchi
• Miso
• Kombucha
Probiotic Supplements:
Probiotic supplements provide the same benefits as food sources, but they're supercharged. The In Shape Mummy Health Shakes contain 1 billion probiotics per serve. So, each time you have a shake, you're lining your gut with 1 billion healthy microorganisms.
How do Probiotics Help With Bloating?
Bloating is a problem a lot of new mums deal with. Changes in the gut and damage to the pelvic floor mean constipation and bloating become more common. New mums also deal with new bodily and emotional stressors, leading to a breakdown in healthy eating habits which can exacerbate bloating.
All these factors wreak havoc on our overall gut health, which is why it's so important to arm yourself with a quick and easy way to restore balance. Restoring balance will help boost your immune system, regain emotional stability and prevent bloating. In Shape Mummy Health Shakes really are the one-stop-shop for Mums wanting to look after their gut health and nutritional needs. In one drink, your body gets a powerful punch of nutrients, 1 billion probiotics and everything else you need to look after your physical health and mental wellbeing.
If you want to improve your mental wellbeing, improve your physical health and flatten your tummy, improving your gut health is a great place to start!

Fast Track Weight Loss with the
In Shape Mummy Health Shake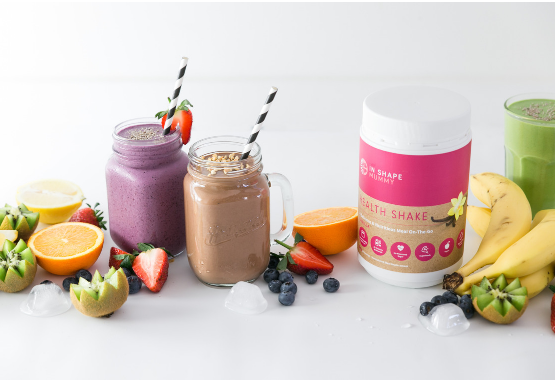 Many Busy Mums don't have time to cook health food and exercise ALL the time.
Great news! Now you can Fast Track Getting In Shape with our Quick, Easy and Delicious Superfood Meal Replacement, the In Shape Mummy Health Shake for Breastfeeding Mums.
Support your Milk Supply and Boost Your Energy while you Lose Weight with our Premium blend of Organic Pea & Brown Rice Protein, 25 Vitamins & Minerals, Probiotics plus Organic Superfoods.
Enhanced with Milk Thistle and Fenugreek which are herbs that have been used for centuries to Support Breastfeeding. Plus, Probiotics to help strengthen your babies immune system.
100% Breastfeeding & Vegan Friendly. Contains NO Artificial Nasties, NO Soy, NO Dairy, NO Gluten & NO Caffeine. Made in Australia.
Enjoy as the Quickest and Easiest Healthy Meal!
FREE 12-Week Healthy Weight Loss Support Program worth $168 with any shake purchase.
Did you know there are 2 types of In Shape Mummy Health Shakes?
We want to help mums of all stages of life look and feel their best. 

That's why we have two options to help you get the best  results. One to support breastfeeding mums and the other to support mums who are not breastfeeding. 

Mums are RAVING about the In Shape Mummy Health Shake...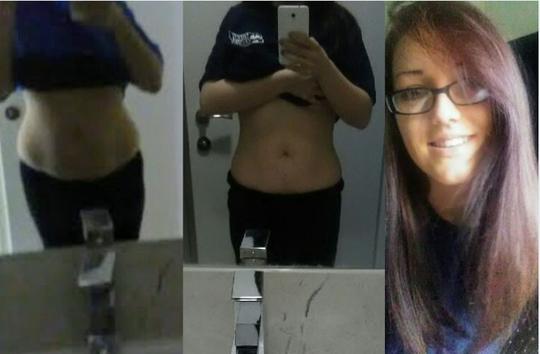 ★ ★ ★ ★ ★ 

"I'm loving it so far.. I'm already down from in weight and I feel great :)  Not exaggerating when I say this is the best purchase I ever made .. can't wait to get to my first mini goal of 65kgs then set my new goal of 60kgs :) .. so far it's been life changing, thank you so much!! It has literally boosted my milk supply. I used to pump 160mls and now I average 240mls .. I've never been able to get that."
- Tania, Vic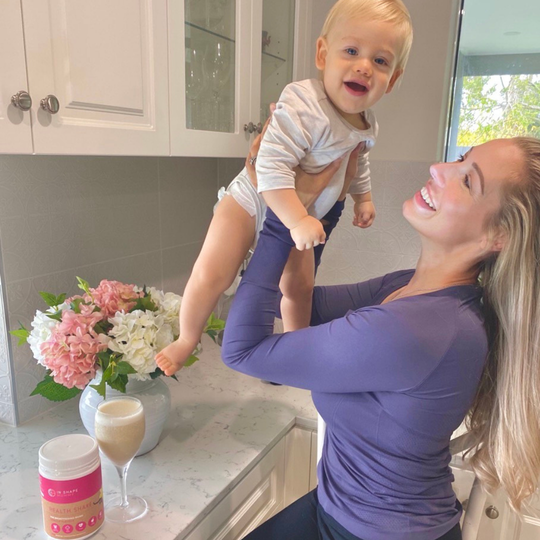 ★ ★ ★ ★ ★ 

""I discovered In Shape Mummy Health Shakes not long after my second baby was born. He has an intolerance to dairy so I was looking to find something that was safe for breastfeeding, and also vegan friendly. I have recently started a detox program with the help of a naturopath. She was so impressed with the ingredients that she has encouraged me to continue having it! In Shape Mummy has not only helped me lose weight, but it's helped me nourish my body when I've been time poor and sleep deprived. It's the only shake that I actually enjoy the taste of! My breakfast everyday includes ice, almond milk, water, a banana and my In Shape Mummy (my current fave is the caramel fudge!). At 11 months postpartum I feel great! And my breastfeeding journey is still going strong - my milk is in perfect supply for what Bub needs. I cannot recommend In Shape Mummy Health Shakes more highly!" 
- Melanie, Vic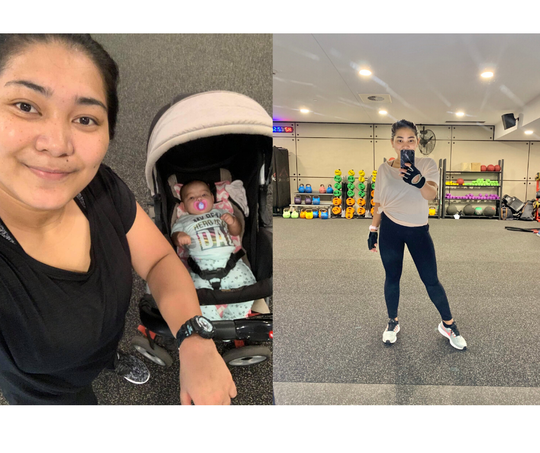 ★ ★ ★ ★ ★ 

"I am so grateful for all the people behind the In Shape Mummy Health Shake. It has helped me lose my post-pregnancy weight in a healthy way and very helpful during days where I had to wake up early for school drop offs and going to work. I've lost 15 kgs and I couldn't be any happier. I've regained my energy and have lots of time to play with my 2 kids. It's breastfeeding-friendly which is even better for me because the nutrients this Healthy Shake has is good for my little one. I feel great and motivated to work out even more when I saw my results. I'm so in love with this Healthy Shake!!! Thanks to Lisa and the rest of their team. ♥️"
- Maureen, WA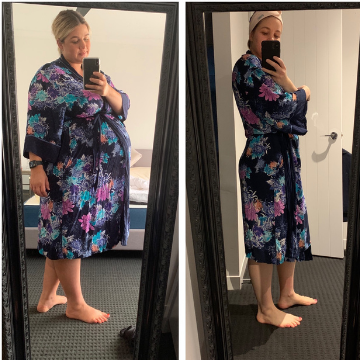 ★ ★ ★ ★ ★ 

"I've lost 31.5 kgs thanks to the In Shape Mummy Health Shakes. 110 kgs to 78.5 kgs! Juggling two little boys under 2 years old doesn't leave much time for healthy choices for Mummy and the In Shape Mummy Health Shake is such an easy solution to get all the goodness I need to keep going! My older son is 20 months and I didn't get the chance to lose the weight gained whilst carrying him before I was pregnant again with baby #2. I easily gained 40kgs across the two pregnancies and no thanks to terrible pelvic pain in pregnancy #2 wasn't able to keep active. Now that my second son is here and the pelvic pain has gone I have stuck to replacing breakfast with my shake and walking every morning for the duration of the morning sleep. Some days I will do a second shorter walk during his nap. I'm still able to enjoy yummy healthy foods and definitely do not feel like I'm going without. I no longer crave sugary foods as the shake sets me up for the day with its magical satisfying ingredients! The shake has become even more of a must since returning to work! If I thought I was busy before, life just got a whole lot busier! Now that I've lost the weight, I have more energy, zero aches and pains and have a better mood. I tell all my friends about In Shape Mummy because easy weight loss doesn't need to be a secret! Xx"
- Carly, Vic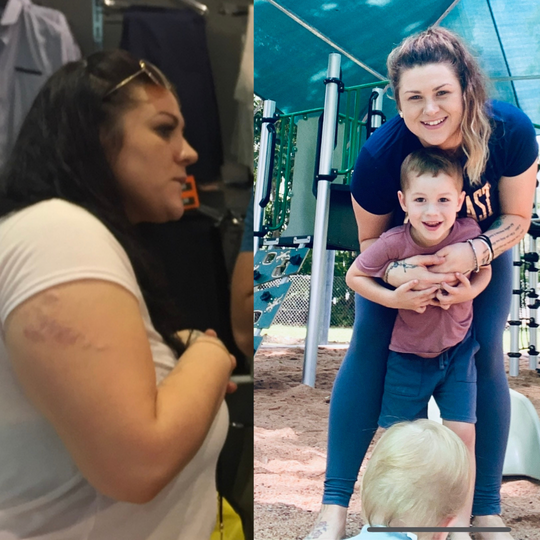 ★ ★ ★ ★ ★ 

"I have lost over 30kg with In Shape Mummy Health Shakes, exercise and a complete diet change. ⁠⁠ I started at size 22 and am a loose size 12 at the moment… and nearly a 10! ⁠I feel so much better! With my injuries in my spine, pelvis and knee my weight loss has been the best thing for my pain. ⁠
7-8 months ago I couldn't have even imagined I could drop this much weight! The change in my life has been insane! ⁠ My advice to other mums is "stick with it and don't give up!" ⁠ Thanks so very much for your In Shape Mummy Health Shakes. They are the best thing for mums on the go and while breastfeeding as well. Words can not express how grateful I am with my weight loss. I couldn't of started this without your shakes. My life is forever changed." ⁠

- Jess, NT