Is Calorie Counting the Secret to Losing Weight?
Most Australians have experimented with dieting. In fact, a 2017 report by the Dietitians Association of Australia found that nearly half (46%) of Australians had tried to lose weight over the past 12-months. After the joys of pregnancy and the adrenaline rush of birth and new parenthood, lots of mums begin their battle to lose weight. And many turn to calorie counting, but is this an effective way to lose weight?
The Truth About Calories
At the most basic level, weight gain and weight loss are caused by the amount of energy we eat versus the amount of energy we burn. If you consume more calories than you burn, you will put on weight. And if you consume less calories than you burn, you will lose weight. But, simply counting and reducing your calories isn't the best recipe for weight loss.
Why? Because calories are just a number. They don't tell the whole truth about food. Take a look at the comparison below:
If you're simply counting calories, the Freddo Frog might seem like a good choice. It's quick and easy, and it will only cost you 63 calories. But, those 63 calories come at a far greater cost than the 105 calories attached to the banana.
Those 63 calories are primarily made up of processed sugar that can cause a hormonal imbalance. And that hormonal imbalance can decrease the chances of you losing weight. Plus, the lack of nutritional value also means that you won't feel satiated, so you'll crave more food. On the other hand, the 105 calories in the banana will fill your body with a range of nutrients, and the high-fibre content will keep you feeling full until your next meal, all without disturbing your hormonal balance.
When you eat junk food that is low in nutrients, your body sends you a message that you need to eat more food, when all you really need is more nutrients. ⁠ ⁠So junk food causes you to end up overeating and putting on more weight.
That is why after eating a bag of chips you will still want to eat more. They are 'empty' calories'. Your body recognises that its nutritional needs have not been met, so it sends you "still hungry" signals. This leads to overeating and weight gain.⁠
So, if counting calories doesn't work well, what does?
Making Your Calories Count
Drastically cutting calories or obsessing over calories won't help you reach your weight loss goals. For breastfeeding mums, this is incredibly destructive. When you're breastfeeding you need extra nutrients as your baby is depending on you for 100% of their nutrition. You need to fill your body with enough nutrients for two (not to be confused with calories for two!). So, instead of counting calories, look at the types of foods you're eating.
To make your calories count, make sure you fill your diet with nutrient-dense foods. Vegetables, fruits, whole grains and lean proteins are full of the vitamins and nutrients your body needs and craves. This means when you eat these foods, you're giving your body what it needs, and you naturally start to feel more satisfied and consume fewer calories.
When you eat healthy foods, you'll also be doing yourself and your baby a huge favour. You'll feel more energetic and you won't have to deal with the energy crashes that come from consuming highly processed and low-nutrition foods.
How In-Shape Mummy Can Help You On Your Weight Loss Goals
The In Shape Mummy Health Shake is a protein and nutrient-dense food that has been specifically designed for breastfeeding and busy mums. Packed with 25 vitamins & minerals, organic vegan protein, probiotics and organic superfoods, it is the perfect companion your weight loss journey.  
You can use these shakes to control your sugar and chocolate cravings. Suppose you feel like some chocolate to get you through the afternoon, you can try a Chocolate Brownie In Shape Mummy Health Shake. If you need an energy boost in the morning, you can try a Caramel Fudge or Vanilla shake. 
In Shape Mummy is also offering free access to their 12-Week Healthy Weight Loss Support program to anyone purchasing their first In Shape Mummy Health Shake. You'll get access to more than 100 recipes designed by our nutritionist, as well as customised meal plans to follow each week. As a new mum, you have enough on your mind. Let us help with your weight loss journey.
For those who need more guidance on how much to eat to lose weight, In Shape give you personalised meal plans with just the right amount of food for your body type on the 12-Week Healthy Weight Loss Support Program.
Conclusion
So, counting calories isn't the secret to weight loss. In fact, weight loss can be much less stressful and restrictive when you don't count calories. Focus on filling your plate with nutritious foods, and you can lose weight without feeling like you're missing out! And, when you're short on time or you need something to satisfy your sweet tooth, In Shape Mummy Health Shakes are your go-to meal replacement shake.
Fast Track Weight Loss with the
In Shape Mummy Health Shake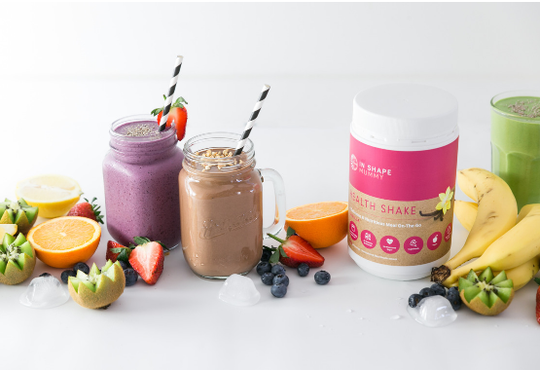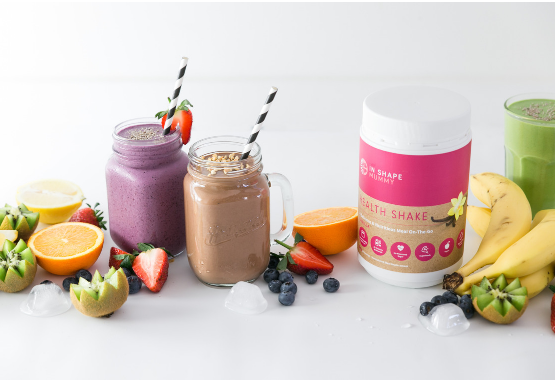 Fast Track Weight loss with our Quick, Easy and Delicious Superfood Meal Replacement, the In Shape Mummy Health Shake.

Boost Your Energy while you Shed Body Fat with our Premium blend of Organic Pea & Brown Rice Protein, 25 Vitamins & Minerals, Probiotics plus Organic Superfoods.
Our Breastfeeding Shake is enhanced with Natural Lactation Aids; Milk Thistle and Fenugreek to Support Milk Supply.
Look and Feel Your Best with NO Artificial Nasties, NO Caffeine, NO Wheat, NO Soy & NO Lactose. 100% Breastfeeding & Vegan Friendly.  Made in Australia.

Enjoy as the Quickest and Easiest Slimming Breaky, Lunch or Snack.
FREE 12-Week Health & Weight Loss Support Program worth $168 with any shake purchase.
Mums are RAVING about the In Shape Mummy Health Shake...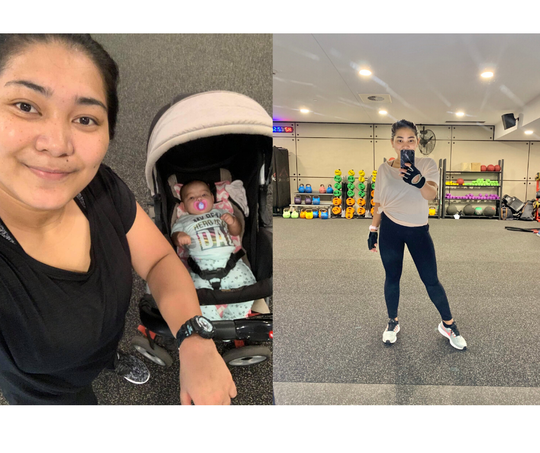 ★ ★ ★ ★ ★ 

"I am so grateful for all the people behind the In Shape Mummy Health Shake. It has helped me lose my post-pregnancy weight in a healthy way and very helpful during days where I had to wake up early for school drop offs and going to work. I've lost 15 kgs and I couldn't be any happier. I've regained my energy and have lots of time to play with my 2 kids. It's breastfeeding-friendly which is even better for me because the nutrients this Healthy Shake has is good for my little one. I feel great and motivated to work out even more when I saw my results. I'm so in love with this Healthy Shake!!! Thanks to Lisa and the rest of their team. ♥️"
- Maureen, WA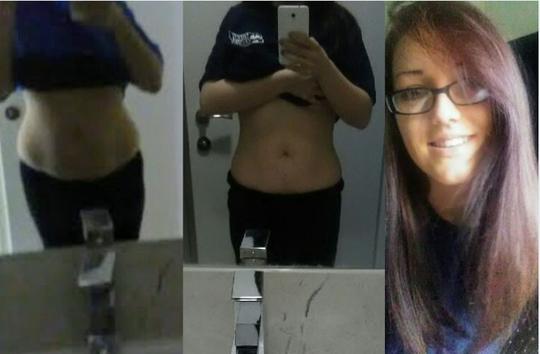 ★ ★ ★ ★ ★ 

"I'm loving it so far.. I'm already down from in weight and I feel great :)  Not exaggerating when I say this is the best purchase I ever made .. can't wait to get to my first mini goal of 65kgs then set my new goal of 60kgs :) .. so far it's been life changing, thank you so much!! It has literally boosted my milk supply. I used to pump 160mls and now I average 240mls .. I've never been able to get that."
- Tania, Vic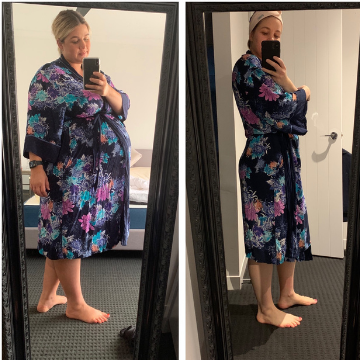 ★ ★ ★ ★ ★ 

"I've lost 31.5 kgs thanks to the In Shape Mummy Health Shakes. 110 kgs to 78.5 kgs! Juggling two little boys under 2 years old doesn't leave much time for healthy choices for Mummy and the In Shape Mummy Health Shake is such an easy solution to get all the goodness I need to keep going! My older son is 20 months and I didn't get the chance to lose the weight gained whilst carrying him before I was pregnant again with baby #2. I easily gained 40kgs across the two pregnancies and no thanks to terrible pelvic pain in pregnancy #2 wasn't able to keep active. Now that my second son is here and the pelvic pain has gone I have stuck to replacing breakfast with my shake and walking every morning for the duration of the morning sleep. Some days I will do a second shorter walk during his nap. I'm still able to enjoy yummy healthy foods and definitely do not feel like I'm going without. I no longer crave sugary foods as the shake sets me up for the day with its magical satisfying ingredients! The shake has become even more of a must since returning to work! If I thought I was busy before, life just got a whole lot busier! Now that I've lost the weight, I have more energy, zero aches and pains and have a better mood. I tell all my friends about In Shape Mummy because easy weight loss doesn't need to be a secret! Xx"
- Carly, Vic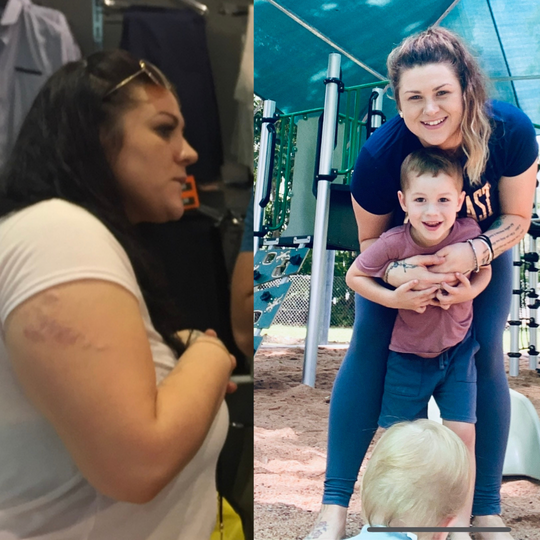 ★ ★ ★ ★ ★ 

"I have lost over 30kg with In Shape Mummy Health Shakes, exercise and a complete diet change. ⁠⁠ I started at size 22 and am a loose size 12 at the moment… and nearly a 10! ⁠I feel so much better! With my injuries in my spine, pelvis and knee my weight loss has been the best thing for my pain. ⁠
7-8 months ago I couldn't have even imagined I could drop this much weight! The change in my life has been insane! ⁠ My advice to other mums is "stick with it and don't give up!" ⁠ Thanks so very much for your In Shape Mummy Health Shakes. They are the best thing for mums on the go and while breastfeeding as well. Words can not express how grateful I am with my weight loss. I couldn't of started this without your shakes. My life is forever changed." ⁠

- Jess, NT
Did you know there are 2 types of In Shape Mummy Health Shakes?
We want to help mums of all stages of life look and feel their best. 

That's why we have two options to help you get the best  results. One to support breastfeeding mums and the other to support mums who are not breastfeeding.