Postpartum Nutrition: What to Eat After Childbirth
Growing a baby requires a lot of energy. For nine to ten months, your body works hard to develop everything that is your precious bub - muscles, bones, limbs and even teeth. When you're pregnant you share your essential vitamin and mineral stores with your developing baby, often leaving you in depletion. And then, once your little bundle arrives, there's not much time to rest. There are sleepless nights, busy days, and little time to look after ourselves. 

There is one thing all mothers can do to take care of themselves postpartum, that doesn't take a lot of time, money, or effort but will make a world of difference. And that's having a solid nutrition plan, that will nourish you back to health. This article will explain how you can nurture your body and recover from pregnancy by focusing on what you eat.


Here are some of the many benefits of healthy eating post-pregnancy:
It can speed your recovery and replenish your stores of nutrients
It promotes milk production when you're breastfeeding
It boosts your energy and stamina
It supports your overall wellbeing and health to help you feel your best
It aids weight management
Postpartum Nutrition Plan
1. Include Anti-Inflammatory Foods
Anti-inflammatory foods help stop the release of pro-inflammatory molecules to inflammation.
Anti-inflammatory food include eating nutrient-dense whole foods high in fibre, antioxidants, and omega-three fatty acids. So, basically, eat lots of fresh fruits and vegetables, legumes, and whole grains. 
Including a range of these anti-inflammatory foods in your diet each day:
Fresh fruits and vegetables in as many different colours as possible. 
Iron-rich protein sources like good quality lamb, beef, bone broths, lentils, beans, tofu, cashew nuts and pistachios. 
Healthy fats including avocados, olive oil, coconut oil, oily fish, nuts and seeds. 
Whole grains like brown rice and pasta, quinoa and oats. 
Probiotic-rich foods, such as kefir, kimchi, kombucha and sauerkraut. 
2. Hydrate 

Water plays a significant role in our body's ability to rebuild, regenerate and recover. Try picturing what your insides would like when you're hydrated compared to dehydrated. The dehydrated version doesn't seem like a healthy environment, does it? 
Every single cell in our body requires water to function. And breastfeeding women's requirement for water is double that of a non-breastfeeding woman. So if you're breastfeeding, you should consume 10-15 glasses of water each day. 
Water is vital for healthy digestion. Water assists in dissolving waste particles and allowing them to pass smoothly through the digestive tract. If you haven't drunk enough water, other desperate cells will absorb any water you do drink, ultimately leaving your colon dry, making it difficult to pass waste. The resulting constipation isn't ideal for postpartum women who shouldn't be pushing too hard when going to the toilet. 
Drinking more water doesn't have to be boring; you can spice up your water by adding fresh berries, lemon or lime, or try sparkling water and herbal teas. 
3. Protein and Collagen-boosting Foods
After birth, there's much recovery and regeneration going on inside your body. Eating foods that support your recovery is one way to support your recover. Eating enough protein and consuming foods that promote collagen production will ensure you're helping your body on its road to recovery. 
High protein foods include: 
Fish
Lean red meat
Poultry
Eggs
Tofu and seitan
Yoghurt 
Nuts
Lentils and beans
Collagen-boosting foods include:
Berries

Citrus fruits
Garlic
Leafy greens 
Bone broth
4. In Shape Mummy Health Shake 
The In Shape Mummy Health Shake is one of the best ways you can nourish yourself postpartum. We understand that some days are simply a right-off, and that you don't have time to always prepare healthy food. But if you can find five minutes during the day to whip up your shake, you know that you will still get a good serving of protein, vitamins, minerals and and probiotics. These will not only assist your recovery, you will also support your milk production and help you get in shape.
The Bottom Line 

Looking after a baby is challenging work. Often, you'll feel exhausted, you'll get grumpy, and you'll second-guess yourself 100 times a day. But looking after a baby is also rewarding. A lot of the time, you'll feel overcome with joy, and you'll feel a love like no other. Every day will be different and unpredictable; there will be many in your life that things you can't control. 
But one thing you can control is what you eat and how you choose to nurture yourself. Make it easier for yourself by keeping your pantry and fridge stocked with healthy, nutritious foods. 
In order to support your postnatal recovery, incorporate into your diet foods that are anti-inflammatory, high in protein and collagen producing. And don't forget to hydrate! 
Fast Track Your Results
with the
In Shape Mummy Health Shake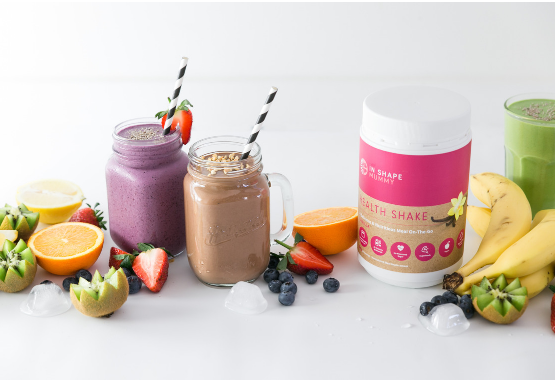 Many Busy Mums don't have time to cook health food and exercise ALL the time.
Great news! Now you can Fast Track Getting In Shape with our Quick, Easy and Delicious Superfood Meal Replacement, the In Shape Mummy Health Shake for Breastfeeding Mums.
Support your Milk Supply and Boost Your Health while you Lose Weight with our Premium blend of Organic Pea & Brown Rice Protein, 25 Vitamins & Minerals, Probiotics plus Organic Superfoods.
Enhanced with Milk Thistle and Fenugreek which are herbs that have been used for centuries to Support Breastfeeding. Plus, Probiotics to help strengthen your babies immune system.
100% Breastfeeding & Vegan Friendly. Contains NO Artificial Nasties, NO Soy, NO Dairy, NO Gluten & NO Caffeine. Made in Australia.
Enjoy as the Quickest and Easiest Healthy Meal!
FREE 12-Week Healthy Weight Loss Support Program worth $168 with any shake purchase.
Did you know we have 2 types of In Shape Mummy Health Shakes?
The In Shape Mummy Health Shake is scientifically formulated to help Breastfeeding Mums get the vitamins, minerals, dietary fibre and easy to digest protein they need for a Healthy Weight, to Sustain Energy levels and Support their Milk Supply, along side a balanced diet.

Julie Masci, Dietitian HBlthSc, APD, AN - In Shape Mummy Scientific Advisory Panel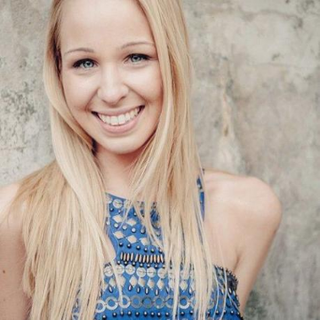 Mums are RAVING about the In Shape Mummy Health Shake...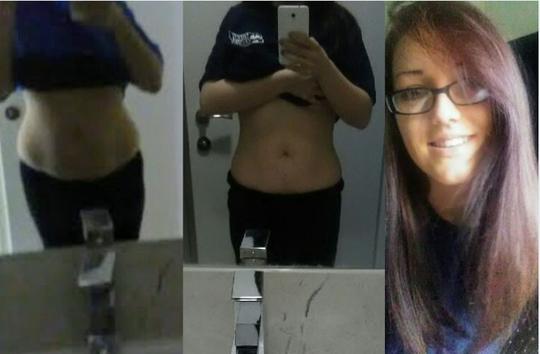 ★ ★ ★ ★ ★ 

"I'm loving it so far.. I'm already down from in weight and I feel great :)  Not exaggerating when I say this is the best purchase I ever made .. can't wait to get to my first mini goal of 65kgs then set my new goal of 60kgs :) .. so far it's been life changing, thank you so much!! It has literally boosted my milk supply. I used to pump 160mls and now I average 240mls .. I've never been able to get that."
- Tania, Vic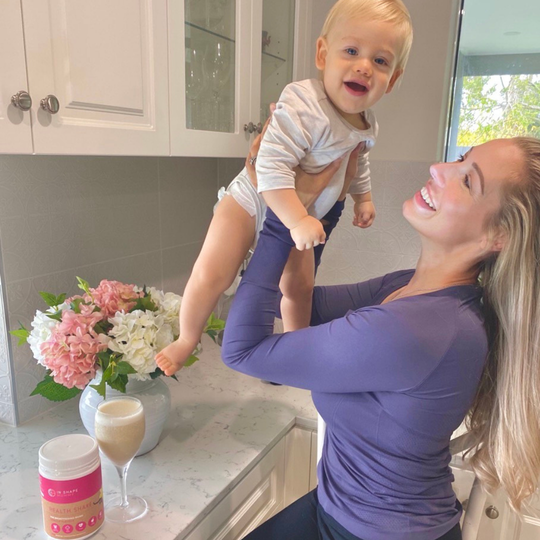 ★ ★ ★ ★ ★ 

"I discovered In Shape Mummy Health Shakes not long after my second baby was born. He has an intolerance to dairy so I was looking to find something that was safe for breastfeeding, and also vegan friendly. I have recently started a detox program with the help of a naturopath. She was so impressed with the ingredients that she has encouraged me to continue having it! In Shape Mummy has not only helped me lose the 26 kgs I put on in pregnancy, but it's helped me nourish my body when I've been time poor and sleep deprived. It's the only shake that I actually enjoy the taste of! My breakfast everyday includes ice, almond milk, water, a banana and my In Shape Mummy (my current fave is the caramel fudge!). At 11 months postpartum I feel great! And my breastfeeding journey is still going strong - my milk is in perfect supply for what Bub needs. I cannot recommend In Shape Mummy Health Shakes more highly!" 
- Melanie, Vic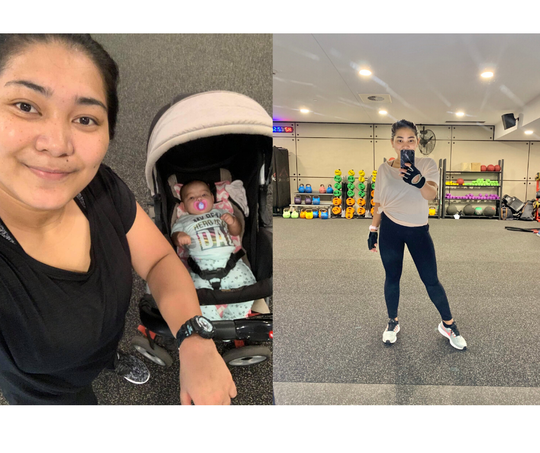 ★ ★ ★ ★ ★ 

"I am so grateful for all the people behind the In Shape Mummy Health Shake. It has helped me lose my post-pregnancy weight in a healthy way and very helpful during days where I had to wake up early for school drop offs and going to work. I've lost 15 kgs and I couldn't be any happier. I've regained my energy and have lots of time to play with my 2 kids. It's breastfeeding-friendly which is even better for me because the nutrients this Healthy Shake has is good for my little one. I feel great and motivated to work out even more when I saw my results. I'm so in love with this Healthy Shake!!! Thanks to Lisa and the rest of their team. ♥️"
- Maureen, WA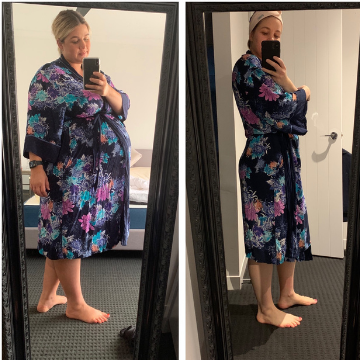 ★ ★ ★ ★ ★ 

"I've lost 35 kgs thanks to the In Shape Mummy Health Shakes. 110 kgs to 75 kgs! Juggling two little boys under 2 years old doesn't leave much time for healthy choices for Mummy and the In Shape Mummy Health Shake is such an easy solution to get all the goodness I need to keep going! My older son is 20 months and I didn't get the chance to lose the weight gained whilst carrying him before I was pregnant again with baby #2. I easily gained 40kgs across the two pregnancies and no thanks to terrible pelvic pain in pregnancy #2 wasn't able to keep active. Now that my second son is here and the pelvic pain has gone I have stuck to replacing breakfast with my shake and walking every morning for the duration of the morning sleep. Some days I will do a second shorter walk during his nap. I'm still able to enjoy yummy healthy foods and definitely do not feel like I'm going without. I no longer crave sugary foods as the shake sets me up for the day with its magical satisfying ingredients! The shake has become even more of a must since returning to work! If I thought I was busy before, life just got a whole lot busier! Now that I've lost the weight, I have more energy, zero aches and pains and have a better mood. I tell all my friends about In Shape Mummy because easy weight loss doesn't need to be a secret! Xx"
- Carly, Vic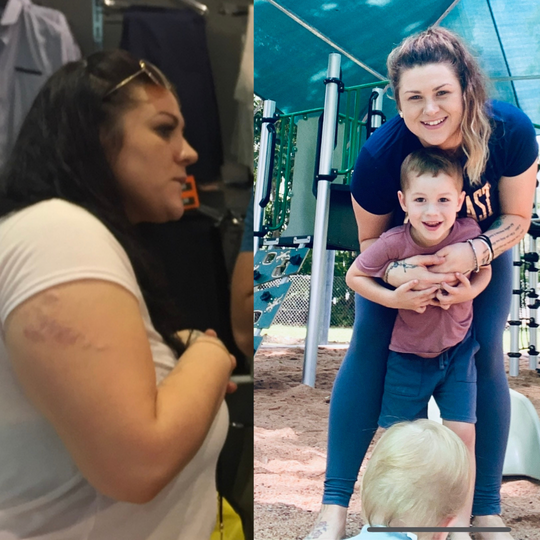 ★ ★ ★ ★ ★ 

"I have lost over 30kg with In Shape Mummy Health Shakes, exercise and a complete diet change. ⁠⁠ I started at size 22 and am a loose size 12 at the moment… and nearly a 10! ⁠I feel so much better! With my injuries in my spine, pelvis and knee my weight loss has been the best thing for my pain. ⁠
7-8 months ago I couldn't have even imagined I could drop this much weight! The change in my life has been insane! ⁠ My advice to other mums is "stick with it and don't give up!" ⁠ Thanks so very much for your In Shape Mummy Health Shakes. They are the best thing for mums on the go and while breastfeeding as well. Words can not express how grateful I am with my weight loss. I couldn't of started this without your shakes. My life is forever changed." ⁠

- Jess, NT