Protein is the Queen of Fat Loss
But which type of Protein is Best?
Many people already know that eating protein can help with weight loss. Most weight loss shakes contain protein powder. It is added it to make you feel full and to burn calories in digestion. But what's less well known is that the type of protein powder used can have a shocking impact on your health.
The different types of protein powders are made from many different sources. Whey, casein, and egg proteins are animal-based proteins. Brown rice, pea, hemp and soy are plant-based proteins.
These protein powders can have positive impacts on your health. But some types of protein powders can also have undesirable impacts on your health. When we weighed up the undesirable and positive health impacts of the different types, we were surprised to find one clear winner.
Impacts on Health - which protein powders are linked to allergies and bloating?
There are several negative aspects to some types of protein powders.
Some sources of protein are incomplete proteins. This leaves a gap in the nutritional balance they provide.
Some can negatively affect your hormones (like us mums need that, right?!?).
There has been ongoing debate about the effect of soy on hormones. 

Other proteins can lead to the development of an allergy or intolerance, which can cause you to feel bloated, gassy, nauseous or worse. Dairy and lactose, found in whey protein powder, is one of the biggest culprits. Lactose intolerance is quite common in mums and bubs and it often goes undiagnosed. 
Many years ago, I suffered through some of the milder ill effects of whey-based protein powder. I was using a whey-based protein powder as a lunch meal replacement.
At the time, I was working in an office and it was a convenient and cheap way to control my weight. But I found myself feeling bloated and gassy throughout the afternoons and had the worst stomach pains. I seemed to be forever excusing myself to nip into the ladies. And when in the ladies, I didn't feel very ladylike. I was passing more wind than the horn section of the Sydney Philharmonic Orchestra! I was constantly uncomfortable and often embarrassed. I realised that it was the whey protein and I soon quit using that protein powder.
The Benefits of Pea Protein
Pea protein doesn't have any of the undesirable health effects that some of the other protein types have. Pea protein is the most hypoallergenic of all protein powders. Pea protein is gluten and dairy-free - perfect for the many people have intolerances to dairy and gluten.
Pea protein is easy on the tummy and doesn't cause bloating. And it has some great positive health benefits.
One surprising health benefit that studies have uncovered is that pea protein has been shown to be good for the kidney's and heart. Canadian scientists found that pea protein can actually lower high blood pressure. And not only can pea protein decrease the risk of heart disease, studies show it could actually delay or prevent the onset of Chronic Kidney Disease.
You may not be thinking about disease prevention when you select a protein powder, but it's nice to know it's doing more than just helping you lose weight!
And if controlling your weight is your primary objective, pea protein is an excellent choice. Pea protein is one of the most effective protein powders for promoting weight loss.
All protein powders help suppress hunger, but pea protein is one of the most effective at keeping hunger at bay.
Pea protein does this in two ways. First, it lowers the levels of the hunger hormone, ghrelin. Second, pea protein produces a great number of peptides that delay the emptying of your stomach. Feeling less hungry and feeling full for longer makes it easier to stick to healthy eating.
Benefits of pea protein:
Closest plant-based protein to a complete amino acid profile including branched-chain amino acids (BCAAs)
Includes amino acid arginine that is essential for building muscle
Alkalising so it reduced acidity in the body
Supports weight management 
Easily digestible 
Dairy-free
The Benefits of Brown Rice Protein
According to study data published in the Nutrition Journal, brown rice protein works as an excellent alternative to whey protein for those individuals with dietary restrictions, allergies, sensitivities, or simply those who prefer a vegan or plant-based source of protein.
Research findings published in the Journal of Agriculture and Food Chemistry suggests that brown rice protein includes unique peptides that reduce weight gain more than those in white rice protein or soy protein.
Benefits of brown rice protein
Contains all 9 essential amino acids
Assists weight loss
Improves liver function
Hypoallergenic
Contains fibre, B vitamins and complex carbohydrates
Muscle repair
Reduces glycemic response
Easily digestible 
Dairy-free
Combing Pea and Brown Rice Proteins provide a far superior amino acid profile than either one alone
When combined, pea and brown rice provide an optimal amino acid profile which is superior to any single plant protein source. Most plant proteins like pea or brown rice protein are not a complete protein source by themselves.
Complete protein sources like the blend of Pea and Brown Rice Protein provide all of the essential amino acids that your body cannot make.  


Conclusion - and the winner is...
Any protein powder based meal replacement can help you to lose weight. But given the number of negative effects other protein powders have on your health and the positive benefits of pea and brown rice protein, a combination of pea and brown rice protein stands out as a clear winner.
Not only is a blend of pea and brown rice protein free from the negative health impacts, it also has some great positive effects on your health. In my mind, pea and brown rice protein is clearly the best option. So how can you use pea and brown rice protein to achieve and maintain your weight goals?
Where can I get it?
The In Shape Mummy Health Shake is a great source of Organic Pea and Brown Rice Protein. Plus, the In Shape Mummy Health Shake gives you more health benefits than just a protein powder. It is a formulated meal replacement which means it is also a great source of Vitamins, Minerals, Fibre, Antioxidants and Superfoods. And it tastes amazing! Available in Chocolate Brownie and Vanilla flavours. Click here to Get Yours Today.
References
https://www.healthline.com/nutrition/how-protein-can-help-you-lose-weight#section1
https://stayfitcentral.com/buyers-guides/the-top-10-benefits-of-pea-protein-powder/
https://www.livestrong.com/article/249173-what-are-the-dangers-of-soy-protein/
https://pubmed.ncbi.nlm.nih.gov/21913675/

https://draxe.com/pea-protein/
Many Busy Mums don't have time to cook health food and exercise ALL the time.

Great news! Now you can Fast Track Weight Loss with our Quick, Easy and Delicious Superfood Meal Replacement, the In Shape Mummy Health Shake.
Boost Your Energy while you Shed Body Fat with our Premium blend of Organic Pea & Brown Rice Protein, 25 Vitamins & Minerals, Probiotics plus Organic Superfoods.
Our Breastfeeding Shake is enhanced with Natural Lactation Aids; Milk Thistle and Fenugreek to Support Milk Supply.
Look and Feel Your Best with NO Artificial Nasties, NO Caffeine, NO Wheat, NO Soy & NO Lactose. 100% Breastfeeding & Vegan Friendly.  Made in Australia.

Enjoy as the Quickest and Easiest Slimming Breaky, Lunch or Snack.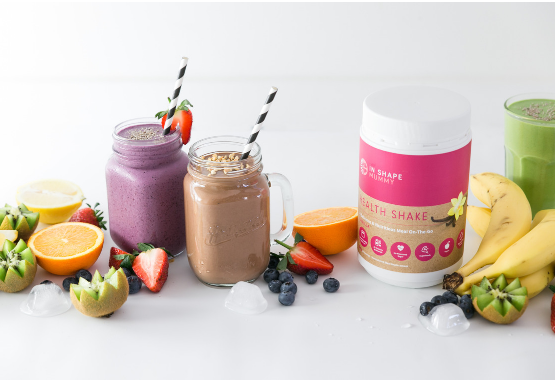 "The In Shape Mummy Health Shake is scientifically formulated to help Busy Mums get the vitamins, minerals, dietary fibre and easy to digest protein they need to Lose Weight and Sustain Energy. And for Breastfeeding Mums, Support their Milk Supply.
One of the best parts about these shakes is that they contain premium Organic Pea & Brown Rice Protein, unlike many popular shakes that contain whey or soy protein. This high quality vegan protein can avoid digestive issues such as bloating and gas."
Julie Masci, Dietitian HBlthSc, APD, AN
-In Shape Mummy Scientific Advisory Panel
Did you know there are 2 types of In Shape Mummy Health Shakes?
We want to help mums of all stages of life look and feel their best. 

That's why we have two options to help you get the best  results. One to support breastfeeding mums and the other to support mums who are not breastfeeding.