Can Vegans Breastfeed? Essential Breastfeeding Vitamins
We've got good news for all the vegans out there; you can absolutely breastfeed when following a vegan diet. And what's better is that breastmilk itself is vegan, too, so you can rest easy knowing your little one isn't harming any animals (besides the nipple pain!).
Keep in mind that an exclusively breastfed baby receives 100% of their nutrition through your breastmilk. So eating a wide variety of healthy foods, including some fortified foods, will be vital inensuring your little one's needs are met.
Do vegans breastfeed?
Although some vegans choose to abstain from breastfeeding, most believe that the act of breastfeeding does not interfere with their beliefs. This is because breastfeeding doesn't fit into any of the categories when you break down the reasons behind why people choose veganism.
Veganism isn't just a diet; many vegans choose not to eat or drink any animal products and ensure no items in their wardrobe, furniture, makeup, and more. Ethical vegans avoid using or purchasing any items that have involved the non-consensual use of animals. This includes things like leather shoes and belts or makeup that has been tested on animals.
So if you're a dietary vegan, ethical vegan orboth, breastfeeding doesn't impact any of the values associated. No animals are being harmed in the process, and no measures are being taken to produce milk in mothers.
Composition of vegan and vegetarian breastmilk
It is known that nutritional composition of breast milk is, to a certain extent, related to maternal diet. The question of nutritional adequacy of mothers' milk is often raised whenever a vegetarian or vegan diet during the lactation process is concerned. For this reason, in some countries, the recruitment of vegan lactating women as milk donors is excluded by milk banks. The purpose of this systematic review is to summarize existing knowledge on variability of specific nutrients in breastmilk of mothers adhering to a plant-based diet. The databases, including MEDLINE (Pubmed) and Scopus, were used to identify relevant publications. Data extraction and analysis were conducted following a PRISMA protocol. Thirteen publications concerning the impact of dietary pattern and levels of animal-origin food intake on breast milk composition were included. The systematic review has shown that all non-vegetarian, vegetarianand vegan mothers produce breast milk of comparable nutritional value. Several differences are primarily attributed to fatty acids and some micro-components, primarily vitamin B12. Regardless of dietary choices, nourishment and adequate nutrition have a significant impact on human milk composition - on the basis of the current evidence, vegetarian and vegan mothers are capable of producing nutritionally valuable milk for their infants, as far as the appropriate supplementation compensating for breastfeeding mother's nutritional requirements is provided. Dietary choices should not be a permanent exclusion criterion for donor candidates in human milk banks.
Mothers require additional vitamins and minerals while they're breastfeeding to support their own needs, as well as their infants. So if vegan women are struggling to meet their increased need for nutrients like iron, zinc and vitamin B12, they may find they also need to incorporate a supplement into their diet.
How can vegetarian and vegan breastfeeding mums get enough protein?
Vegetarian and vegan diets are safe for breastfeeding women. However, women who don't eat animal products still need to ensure they're hitting their protein target through eating a wide variety of foods.
The average protein requirement for a breastfeeding woman is around 1 gram per kg of body weight. So, for a women who weighs 70kg she needs 70 grams of protein per day.
Tofu, tempeh and nuts are all fantastic protein sources for vegan and vegetarian women. However, as there are fewer high protein options for plant-based women, they may find it's easier to hit their target through incorporating protein powder into their diet. In addition, choosing a breastfeeding specific protein powder, like In Shape Mummy is vital because the ingredients in the powder will pass through your breastmilk onto your little one. 
Here's an example of a high protein breakfast smoothie for a vegetarian/vegan.
2 cups almond milk
½ frozen banana
¼ cup rolled oats
2 tbsp hemp seeds
1 tbsp chia seeds
1 tbsp peanut butter
What's the best protein powder for breastfeeding?
Not only do you need to choose a protein powder designed for breastfeeding women, but you also need to make sure it doesn't contain any artificial ingredients that could potentially harm your baby. For example, many off-the-shelf protein powders are full of nasty additives and sugar. And, hidden sugar and harmful substances is the last thing post-partum women want, especially when making healthy choices.
Finding a formula designed to support breastfeeding women's nutritional needs is the safest way to ensure your milk supply isn't affected. The In Shape Mummy Health Shake for Breastfeeding Mums provides women with a good serving of protein. It also contains over 25 vitamins and minerals, probiotics for gut health, and galactagogues, which are herbs that have been used for centuries to support milk production. And the best thing is they don't ontain any added sugar or artificial nasties.
How can the In Shape Mummy Health Shake help me hit my increased nutritional needs while breastfeeding?
The In Shape Mummy Health Shake is a vegan superfood meal replacement developed to help breastfeeding mums meet their increased nutritional needs.  A premium blend of organic pea & brown rice protein, 25 vitamins and minerals, probiotics plus organic superfoods help you get a healthier body while boosting your energy levels and suppporting your milk supply. They are enhanced with organic milk thistle and fenugreek which are herbs that have been used for centuries to support breastfeeding. Plus, probiotics to help strengthen your babies immune system.
Incorporating the In Shape Mummy Health Shake into your diet is a great way to up your daily protein intake. Each serving of shake contains around 12g of protein. We recommended having two shakes per day, so this will equal approximately total of 24g of protein.
Extra Support
Join the In Shape Mummy Breastfeeding Support Group, and meet other like minded mums and get health tips, recipes and inspiration.
Fast Track Weight Loss & Support Milk Supply with the
In Shape Mummy Health Shake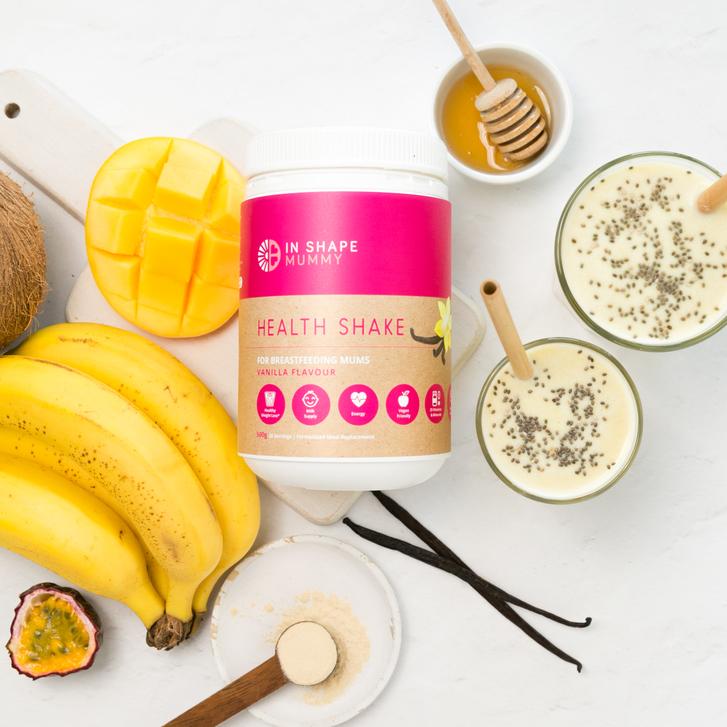 Many Busy Mums don't have time to cook health food and exercise ALL the time.
Great news! Now you can Fast Track Getting In Shape with our Quick, Easy and Delicious Superfood Meal Replacement, the In Shape Mummy Health Shake for Breastfeeding Mums.
Support your Milk Supply and Boost Your Energy while you Lose Weight with our Premium blend of Organic Pea & Brown Rice Protein, 25 Vitamins & Minerals, Probiotics plus Organic Superfoods.
Enhanced with Milk Thistle and Fenugreek which are herbs that have been used for centuries to Support Breastfeeding. Plus, Probiotics to help strengthen your babies immune system.
100% Breastfeeding & Vegan Friendly. Contains NO Artificial Nasties, NO Soy, NO Dairy, NO Gluten & NO Caffeine. Made in Australia.
Enjoy as the Quickest and Easiest Healthy Meal!
FREE 12-Week Healthy Weight Loss Support Program worth $168 with any shake purchase.
Mums are RAVING about the In Shape Mummy Health Shake...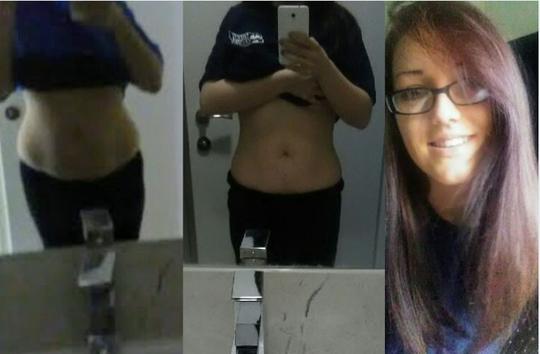 ★ ★ ★ ★ ★ 

"I'm loving it so far.. I'm already down from in weight and I feel great :)  Not exaggerating when I say this is the best purchase I ever made .. can't wait to get to my first mini goal of 65kgs then set my new goal of 60kgs :) .. so far it's been life changing, thank you so much!! It has literally boosted my milk supply. I used to pump 160mls and now I average 240mls .. I've never been able to get that."
- Tania, Vic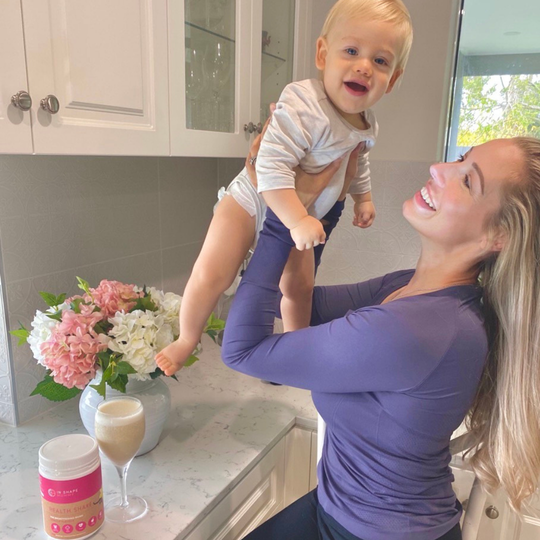 ★ ★ ★ ★ ★ 

""I discovered In Shape Mummy Health Shakes not long after my second baby was born. He has an intolerance to dairy so I was looking to find something that was safe for breastfeeding, and also vegan friendly. I have recently started a detox program with the help of a naturopath. She was so impressed with the ingredients that she has encouraged me to continue having it! In Shape Mummy has not only helped me lose weight, but it's helped me nourish my body when I've been time poor and sleep deprived. It's the only shake that I actually enjoy the taste of! My breakfast everyday includes ice, almond milk, water, a banana and my In Shape Mummy (my current fave is the caramel fudge!). At 11 months postpartum I feel great! And my breastfeeding journey is still going strong - my milk is in perfect supply for what Bub needs. I cannot recommend In Shape Mummy Health Shakes more highly!" 
- Melanie, Vic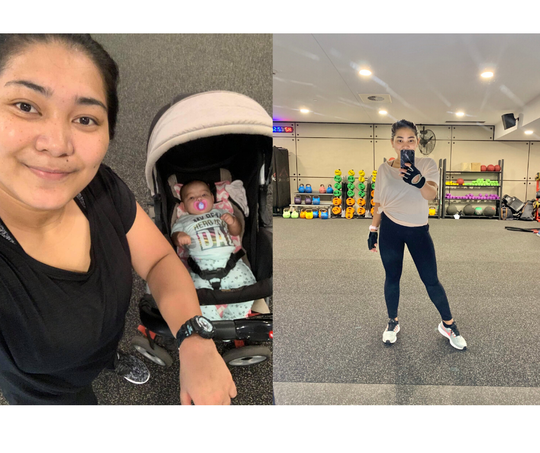 ★ ★ ★ ★ ★ 

"I am so grateful for all the people behind the In Shape Mummy Health Shake. It has helped me lose my post-pregnancy weight in a healthy way and very helpful during days where I had to wake up early for school drop offs and going to work. I've lost 15 kgs and I couldn't be any happier. I've regained my energy and have lots of time to play with my 2 kids. It's breastfeeding-friendly which is even better for me because the nutrients this Healthy Shake has is good for my little one. I feel great and motivated to work out even more when I saw my results. I'm so in love with this Healthy Shake!!! Thanks to Lisa and the rest of their team. ♥️"
- Maureen, WA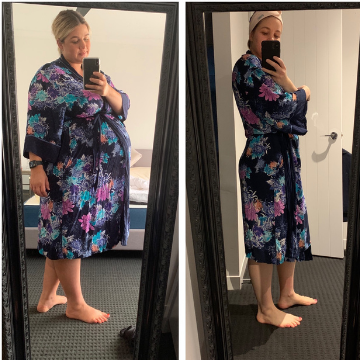 ★ ★ ★ ★ ★ 

"I've lost 35 kgs thanks to the In Shape Mummy Health Shakes. 110 kgs to 75 kgs! Juggling two little boys under 2 years old doesn't leave much time for healthy choices for Mummy and the In Shape Mummy Health Shake is such an easy solution to get all the goodness I need to keep going! My older son is 20 months and I didn't get the chance to lose the weight gained whilst carrying him before I was pregnant again with baby #2. I easily gained 40kgs across the two pregnancies and no thanks to terrible pelvic pain in pregnancy #2 wasn't able to keep active. Now that my second son is here and the pelvic pain has gone I have stuck to replacing breakfast with my shake and walking every morning for the duration of the morning sleep. Some days I will do a second shorter walk during his nap. I'm still able to enjoy yummy healthy foods and definitely do not feel like I'm going without. I no longer crave sugary foods as the shake sets me up for the day with its magical satisfying ingredients! The shake has become even more of a must since returning to work! If I thought I was busy before, life just got a whole lot busier! Now that I've lost the weight, I have more energy, zero aches and pains and have a better mood. I tell all my friends about In Shape Mummy because easy weight loss doesn't need to be a secret! Xx"
- Carly, Vic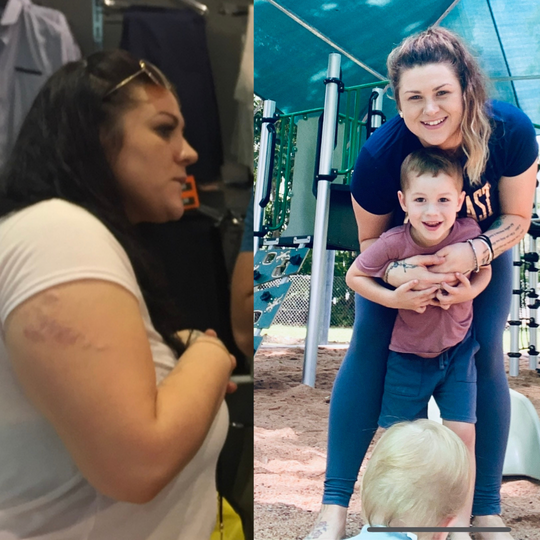 ★ ★ ★ ★ ★ 

"I have lost over 30kg with In Shape Mummy Health Shakes, exercise and a complete diet change. ⁠⁠ I started at size 22 and am a loose size 12 at the moment… and nearly a 10! ⁠I feel so much better! With my injuries in my spine, pelvis and knee my weight loss has been the best thing for my pain. ⁠
7-8 months ago I couldn't have even imagined I could drop this much weight! The change in my life has been insane! ⁠ My advice to other mums is "stick with it and don't give up!" ⁠ Thanks so very much for your In Shape Mummy Health Shakes. They are the best thing for mums on the go and while breastfeeding as well. Words can not express how grateful I am with my weight loss. I couldn't of started this without your shakes. My life is forever changed." ⁠

- Jess, NT